Executive Passenger Lounge Management
Ideal Business Services Ltd have partnered with the Saint Lucia Air and Sea Ports Authority (SLASPA)  to develop a management information system for the Iyanola Executive Lounge within Hewanorra International Airport.
The software solution has been designed to maintain executive lounge membership, to monitor the patronage of the lounge and as a stock management system for items used within the lounge for guests such as alcohol and snacks. The stock control module is also used to monitor the expiry date of perishables.
The system provides management information on the numbers and types of guests using the lounge that are in the following categories:
Members
Airline authorised executives (ie, passengers travelling first or business class)
Guests supplied with vouchers (eg, by organisations or hotels)
Guests with complimentary passes supplied by

SLASPA

 
Guests who walk in and pay a fee to use the lounge on a one-off basis
Guests who are using third party lounge club cards (eg, Airport Angel, Priority Pass, Diners Club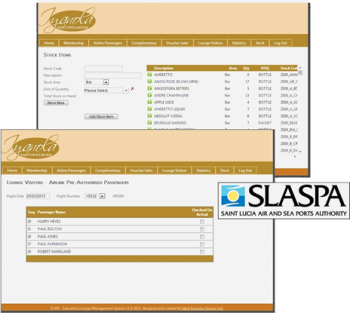 The number of passengers in each of the above categories travelling nominated airlines (British Airways, Virgin, American Airlines, Delta, etc) for a selected period.
Financial transactions received during a selected period. This is broken down into cash, cheque and credit card transactions or those guests who wish to have their company invoiced for the visit.
Hewanorra International Airport's designer-built Iyanola Executive Lounge is a haven of luxury for passengers travelling in first and business class cabins with some airlines and others paying for a one-day pass or yearly membership allowing them entry into the facility. The lounge has been designed with quiet and comfort in mind, with restful lighting and seats are the sort that their users will not feel inclined to leave once they have sunk into them. Light snacks, tea, coffee and a well-stocked bar are also on hand inside the lounge along with flat-screen television sets, newspapers and magazines. An Internet and free fax facility is available along with card swipe telephones. The lounge has found favour with hundreds of business passengers waiting for flights and needing time to catch up on paperwork or to make calls before boarding. The lounge is also useful for small business meetings.