Airport Statistical Management Information
Our Airport Statistical Management Information System (ASMIS), is ideal software to help manage a small to medium-sized airport and to provide all the necessary management information.
ASMIS helps small to medium-sized airports monitor all aircraft, passenger and cargo activity more effectively.
ASMIS is a web-based application providing real-time information and management reports on all airport activity, including:
Aircraft arrivals and departures
Passenger numbers, embarking, disembarking and in transit
Cargo data
Analysis of Aircraft operator activity
Parking and overtime monitoring by Airline
Analysis of aircraft movements by type and by category
Service charge calculations and invoice production
Load factor calculations for effective decision making
Scheduled flight maintenance
Effective assistance for Air Traffic Control

(ATCO)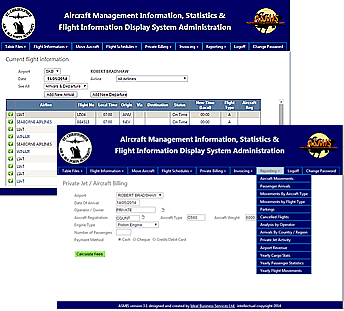 Other features of the ASMIS system include: 
Flight information verification
Aircraft activity statistical information
Passenger and cargo movements
Analysis of flight information by type of movement
Billing of aircraft activity per operator for landings, parking and extensions.
Analysis of flight information per aircraft type
Invoice calculations for aircraft landings, parking and passenger disembarkation / embarkation fees
Billing calculations for ancillary airport services such as rentals and general service charges
Production of

IATA

  passenger schedules for recharging
The ability to email invoices and schedules to customers
Reports integration with Microsoft Excel
Yearly comparison analysis reports for passenger throughput, cargo handling and arrivals/departures
Security access levels to allow airlines to access their own information and update if necessary
Cash book facility for private aircraft aeronautical fees

ASMIS  is currently being used at a number of regional airports within the Caribbean area and we are now offering ASMIS  to all airports as either a standalone solution or integrated into existing computer systems.