ASMIS

Taking Off in the Caribbean

Ideal Business Services Ltd  have installed their ASMIS,  (Airport Statistics Management Information System), software for both the St Lucia Air & Sea Ports Authority (SLASPA)  and Dominica Air & Sea Ports Authority (DASPA).

ASMIS  helps small to medium-sized airports to monitor all aircraft, passenger and cargo activity more effectively. The web-based application provides real-time information and management reports on all airport activity, including:
Aircraft arrivals and departures
Passenger numbers, embarking, disembarking and in transit
Cargo data
Analysis of aircraft operator activity
Parkings and extensions
Analysis of aircraft movements by type and by category
Airport service charge calculations and invoice production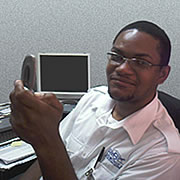 ASMIS  is being used by SLASPA  to record all data at their George FL Charles and Hewanorra International Airports. On Dominica, DASPA  have installed the system at their Melville Hall and Canefield airports.
Kelvin Henderson, IT  Systems Administrator for Dominica Air & Sea Ports Authority,  commented, "Dominica Air & Sea Ports Authority  was introduced to Ideal Business Services by our friends at SLASPA.  Presently, we have ASMIS  installed and it is being used at both of our airports effectively. We are very satisfied with the level of support and the fact that ASMIS  can be customized to suit our needs. Ideal  are very friendly, professional and highly competent. The willingness to fulfill our requests and also make recommendations really builds our confidence in Ideal  and gives the assurance that they work with the customer's best interest at heart."
Other features of
ASMIS

  include:
Flight information verification
Aircraft activity statistical information
Passenger and cargo movements
Analysis of flight information by type of movement
Billing of aircraft activity per operator for landings, parkings and extensions.
Analysis of flight information per aircraft type
Load factoring of each flight
Invoice calculations for aircraft landings, parkings and passenger disembarkation / embarkation fees
Billing calculations for ancillary airport services such as rentals and general service charges
Ideal  are now offering ASMIS  to all airports as either a standalone solution, or integrated into existing computer systems.