SCASPA

Now Using

Ideal's

Airport Management Information System

St Christopher Air & Sea Ports Authority (SCASPA)  have implemented a new Airport Statistical Management Information System (ASMIS)  at Robert Llewellyn Bradshaw International Airport (RLBIA)  to give them greater real-time information and management reporting.

The new U2 based computer system has been customised to their needs by software developer Ideal Business Services Ltd,  who have installed similar systems at airports on Saint Lucia and Dominica.

ASMIS  will help SCASPA  to monitor all aircraft, passenger and cargo activity more effectively, providing real-time information and reports on all airport activity, including:
Aircraft arrivals and departures
Passenger numbers, embarking, disembarking and in transit
Cargo data
Analysis of aircraft operator activity
Parkings and extensions
Analysis of aircraft movements by type and by category
Airport service charge calculations and invoice production

Other features of the
ASMIS

system include:
Flight information verification
Aircraft activity statistical information
Passenger and cargo movements
Analysis of flight information by type of movement
Billing of aircraft activity per operator for landings, parkings and extensions.
Analysis of flight information per aircraft type
Load factoring of each flight
Invoice calculations for aircraft landings, parkings and passenger disembarkation / embarkation fees
Billing calculations for ancillary airport services such as rentals and general service charges
Production of

IATA

  passenger schedules for recharging
The ability to email invoices and schedules to customers
Reports integration with Microsoft Excel
Yearly comparison analysis reports for passenger throughput, cargo handling and arrivals/departures
Security access levels to allow airlines to access their own information and update if necessary
Cash book facility for private aircraft aeronautical fees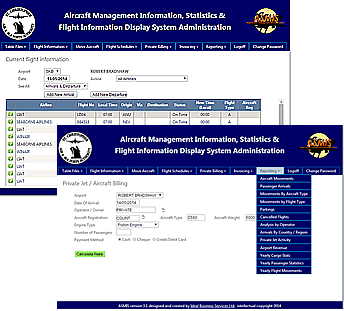 Formed by the Government of St. Kitts & Nevis, St Christopher Air & Sea Ports Authority  provides the gateway to St. Kitts, operating the Port Zante Cruise Ship Terminal, the Basseterre Deep Water (Cargo) Port and Ferry Dock and the Robert Llewellyn Bradshaw International Airport.
Robert Llewellyn Bradshaw International Airport is widely acclaimed to be one of the best mid-sized airports in the Caribbean.  It can accommodate aircraft up to B747  size and is designed to handle commercial jets, cargo carriers, private jets and regional commuter flights. There are scheduled services to the UK, Canada and the USA as well as many destinations within the Caribbean.
Paul Parkinson, Ideal's  director in the Caribbean, commented, "Ideal Business Services Ltd  are delighted to further strengthen our ties with St Christopher Air & Sea Ports Authority, who are already using our Flight Information Display System to give a better customer experience.  As with all our other software solutions, the Airport Management Information System has been developed around their exact needs."
The ASMIS  system is accessed via a standard web browser, so can be accessed from anywhere or any device with an Internet connection. 
As with several other systems, Ideal  developed the software solution using mv.NET from BlueFinity International.  mv.NET  is a suite of components designed to provide the MultiValue developer with a comprehensive solution to the challenge of creating Microsoft .NET  based applications requiring access to MultiValue databases.
The Airport Statistical Management Information System (ASMIS)  implemented for St Christopher Air & Sea Ports Authority (SCASPA) is another computer software solution from Ideal Business Services Ltd,  an international developer of software solutions for shipping ports, container storage & repair depots, airports, warehousing, cold storage and related logistics industries, as well as bespoke stock control software solutions developed to each client's requirements.
Ideal are now offering ASMIS  to all airports as either a standalone solution, or integrated into existing computer systems.
For more information on our Port Management systems, click here.
For more information on our Airport systems, click here.